KEY DETAILS
Date: Thursday 30th September
Location: The Montcalm, Marble Arch, London
Dress code: Dress to impress!
TIMINGS
18:30 - drinks reception
19:10 - speeches
19:20 - dinner
21:00 - awards
22:00 - entertainment
00:30 - carriages
MENU
Starter
Terrine of roast vegetable (V) cucumber and onion salsa, young mixed leaves, balsamic reduction
Mains
Garlic and thyme roasted chicken, kale and parmesan mash, glazed carrots, truffle jus
Garden pea risotto (V) eggplant turnover, parmesan shavings
Dessert
Caramelised orange layered deluxe cake with blood orange sorbet
Please be advised that we must be notified of all dietary requirements before the event. Please email your dietary requirements to event manager, siobhan@creativemoment.co

YOUR HOST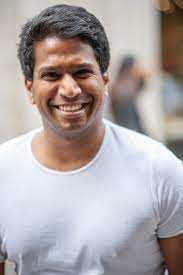 Gavin Ramjaun is a presenter, host and senior journalist across popular TV and radio shows and content in the UK in sports, entertainment and news.

Currently one of the main faces of BBC Sport, Gavin is hosting rolling sports coverage and programmes for the BBC's network of shows across BBC One, Two and News Channel, in addition to BBC World which has a reach of over 400 million a week.

He's also known for his work as a global speaker, talking to international business groups on making messages and stories count, his life experiences and working his way up from the bottom as a runner, his experiences with diversity, racism and breaking barriers, his knowledge and forecasting on the current media landscape, and hosting awards and dinners. His passion for industry and people has seen him grow this interest by engaging in motivational talks to youth groups, schools and universities.
VENUE
The Montcalm London Marble Arch
2, Wallenberg Place, London, W1H 7TN, United Kingdom